Throughout history ships have played a huge role for humanity wether it involved transporting important goods or fighting battles out at sea. We can see the importance of certain ships by the drawings or paintings of them. The historical importance of ships is what lead to the creation of model ships.
In this guide we've included information regarding model ships from the history behind them, how their scaled, popular model ships and model ship kits that you can build yourself. So let's get started.
History Behind Model Ships – 
Humans have always had a fascination for model ships. The very first "model ships" were actually built almost 4000 years ago by Egyptians. These model ships were made out of clay and were found in Egyptian tombs. Of course these are nothing like the ones we have today in terms of detail but it just shows us the significance behind them.
Sailors themselves were the very first who started building model ships that tend to look like the ones we have today. Perhaps not as detailed and crafty as today but with the limited materials available to them they created these first few detailed models. Others quickly started noticing how popular they were among sailors and companies quickly caught on.
They we're then advertised by large companies and quickly became popular. They brought nostalgia to some and they we're interesting display items that got attention. Most of the popular model ships or kits you see today have an important historical significance whether they played a key role in a battle or we're captained by a famous historical figure.
Fun fact: One of our presidents, FDR had a great interest in model ships. 
Material used – The most popular materials used are wood, plastic and plaster.
Scaling in Model Ships – A lot of questions are always asked in regards into how scaling works. To give you an example, if a scale is 1:24 then that means that 1 inch on the model ship is equal to 24 inches on the real ship. Depending on where you're buying it from you might also see something like this: 1/2″ which generally means that half of an inch is equal to one foot on the real ship.
Different Types of Model Ships – You might encounter a wide variety of different types of model ships, since after all they do represent ships from all over the world. Some might be easier to build than others. Some examples are Amati, Euromodel, Corel, Mantua and many more.
Should you get a fully assembled model ship or a model ship kit? – The answer really depends on what you're goals are. If you want to learn more about model ships, how they're created, how the parts connect together and perhaps one day build you're own then definitely go with the kit. Otherwise if you just like the history behind them and don't want to bother with the creation of them and just want a nice cool thing to display then go with the fully assembled.
Best Model Ship Kits 2019
Most model ship kits come with very clear instructions on how to build them. Most places will include starter kits for those who are initially new to building and guides on how to do it. Here is a list of some of the best model ship kits in the market. 
Model Ship Kits For Beginners
The Amerigo Vespucci was a training vessel that was used by the Italian Navy in the 1920's to train it's officers. It was named after an Italian explorer. This wooden model ship kit has a plank on frame hull type. It's suitable for beginners and it includes plans showing you the details of how it comes together.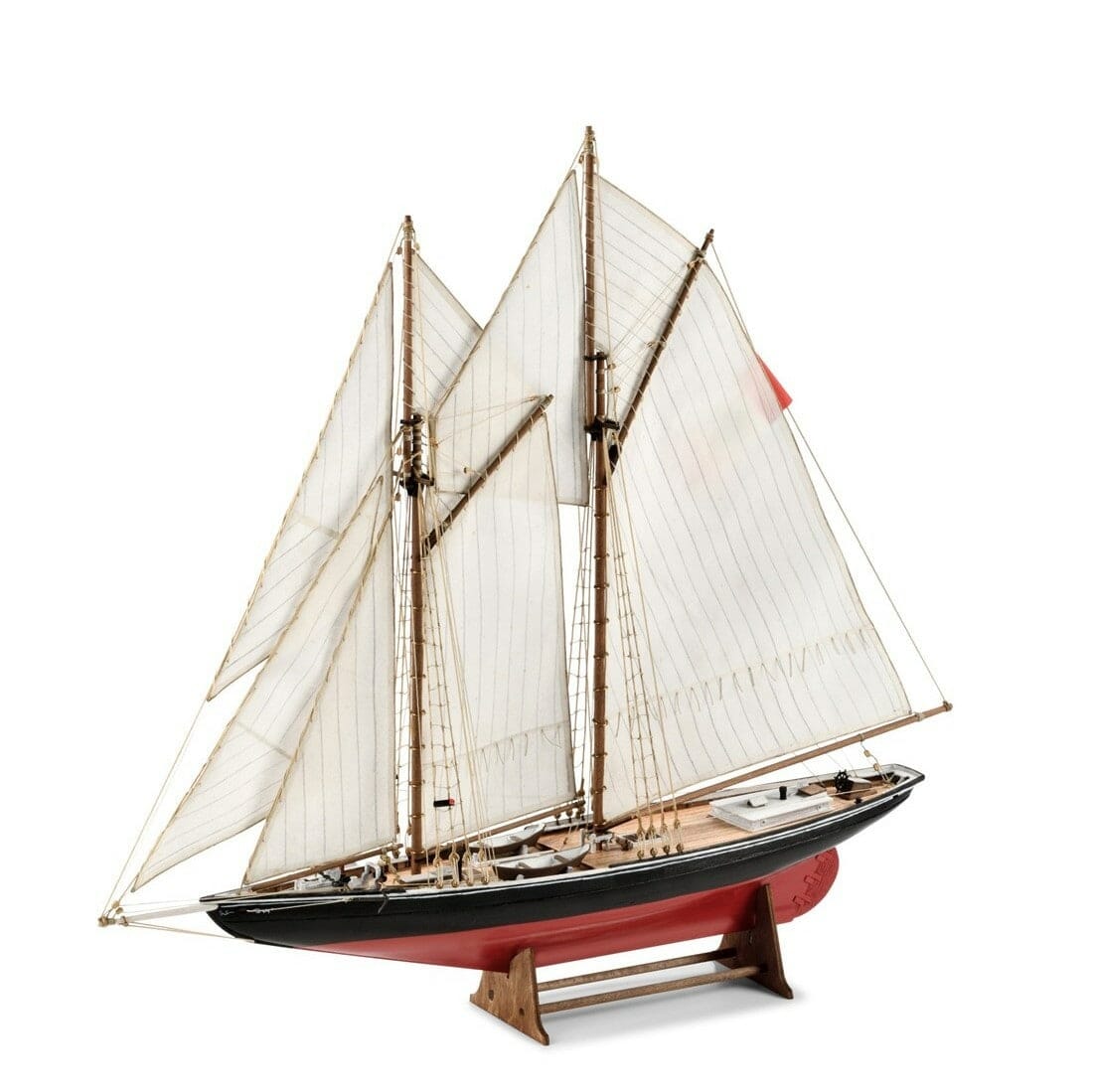 BLUENOSE 1 - Fishing Schooner 1921
The Bluenose 1 is famous for winning the International Fishermans Trophy in 1921. Originally designed by a young architect by the name of William Roue. This wooden model ship kit is an excellent choice for beginners looking to get started in the modeling hobby. It comes with a tool kit that gives you just about everything you need to build it and a massive 104 page e-book and DVD's that involves everything from Hull Planking, Deck Planning and much more. It's a 1:100 scale and has a length of 21-1/2″ and height of 17-1/2″
Model Ship Kits For Adults
Amati Elizabethan Galleon
As you can see the Amati Elizabethan Galleon stands out for it's stylish colorful decorations on both sides. It's an easy to build wooden kit measuring 11″ in length, 10″ in height and 3.9″ in width. AlwaysHobbies provides instructions for painting, assembling and rigging that any beginner can easily follow. 
Revell 1:96 USS Constitution
The Revell1:96 USS Constitution is a full size of this model ship kit once built is 3″. You can expect some amazing detail once completed with the inclusion of bunks, bulkheads and tables. Suitable for both beginners and more experienced model builders it comes with complete step by step instructions. The USS Constitution is famous for it's battle against the H.M.S. Guerriere in which it completely destroyed it. Having nearly escaped a certain doom weeks before the battle the USS Constitution made its own special place in history.
Here is a list of the top model ships that have already been assembled. Representing some of the most famous ships in history that you've probably heard of. 
One of the most famous ships in history, shown all over the media. This Flying Dutchman model ship is an accurate and detailed representation of it. Made of some of the finest wood involving cherry, black walnut, birch and rosewood.  From the amazing details with metal cannons, sharp hand stitched sails, carefully designed hull and deck it's one of our top recommendations. 
Blackbeard's Queen Anne's Revenge Pirate Ship
The Queen Anne's Revenge, perhaps another one of the most famous pirate ships in history. This boat designed and creating by Hampton Nautical arrives fully assembled with all sails completely mounted so there is no building on your part. It has very stylish hull made of wood and some very sharp looking black cloth sails. *Note* Since a lot of people are asking no it does not actually float and the stand is completely attached to the model ship (you can't remove it)
Another of Hampton Nautical creations, the Hampton Nautical Wooden USS Constitution comes fully assembled and ready for display. Built from scratch by the finest artists in the wooden modeling industry it brings a stylish look. The ship only weights 2 pounds so it's pretty light. The type of wood it uses is a cherry wood maple. 
We hope you enjoyed our guide on model ships. It's a wonderful hobby and the history behind them is very interesting. If you have any questions, please feel free to send me an email.